"THE WILD PARTY"
Screenplay, Music and Lyrics by Walter Marks
Directed by James Ivory
Please go to — YouTube Raquel Welch sings in "The Wild Party"
---
"PINOCCHIO"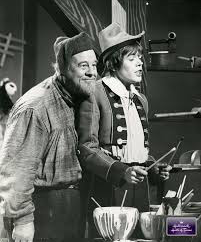 TV MUSICAL — HALLMARK HALL OF FAME
Burl Ives as Geppetto
Peter Noone (of Herman's Hermits) as Pinocchio
Richard Levine … Producer
Ernest Kinoy … Adapted by
Walter Marks … Music by, Lyrics by
Sid Smith … Director
Michael Bennett … Choreographer
Fun fact: When choreographer Michael Bennett brought his dancers in for the first rehearsal of this show, I saw one of them was a guy who had to be 6'6" in height. I said, "Michael, why did you hire a dancer who's that tall? He's gonna stick out from the ensemble." Michael said, "Don't worry, he's terrific, you'll love him".
I asked "What's his name?" He replied "Tommy Tune." I said, "Tommy Tune? You gotta be kidding!" The rest is history.