Golden Rainbow Set for Return of York Theatre's Musicals in Mufti Series
The York will present five titles this summer and fall at the Theater at St. Jean's.
July 17, 2023
Eydie Gormé and Steve Lawrence in original Broadway production of Golden Rainbow
(© Friedman-Abeles/New York Public Library for the Performing Arts)
This summer and fall, the renowned Musicals in Mufti series of semi-staged concerts will return to the York Theatre Company for the first time in four years. All performances will take place at the Theater at St. Jean's on East 76th Street.
Titles being presented include Golden Rainbow, with music and lyrics by Walter Marks and book by Ernest Kinoy, revised by Marks. (September 23-October 1). Golden Rainbow was famously a vehicle for singers Steve Lawrence and Eydie Gormé, and is best known for the song "I've Gotta Be Me."
---


"LANGSTON IN HARLEM" (Off-Broadway)
"Langston in Harlem" wins four Audelco/Vivian Robinson Awards for excellence in Black Theater — Best Musical: "Langston in Harlem", Best Male performer in a musical: Glenn Turner, Best Female performer in a musical: Kenita Miller, Best choreography: Byron Easley
RAVES FOR "LANGSTON IN HARLEM"
What's astounding about this show, directed by Kent Gash, with music by Walter Marks, is how well Hughes's evocative verse, used as dialogue and for all the lyrics, lends itself to the biographical musical-theatre genre. Because the poetry is deep and gorgeous, the book (co-written by Gash and Marks) and the lyrics are, too. And it doesn't hurt that the singing—jazz, gospel, rhythm and blues—and the dancing, choreographed by Byron Easley, are inspired. — THE NEW YORKER
Urban Stages has itself a fresh, original winner in "Langston in Harlem," a new musical based on the poetry and life of Langston Hughes. Director and co-author Kent Gash's inventive production strains the tiny black-box space at the seams with its vitality and intelligence, and a crackerjack 12-person cast delivers the show with rich humanity and flair.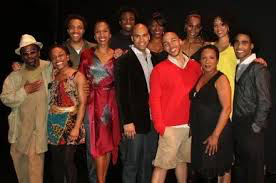 This unique piece has the wisdom not to overexplain itself, allowing the audience to put together its own portrait of Hughes through his work. All the fascinating pieces of his life are in place: poverty, politics, race, fame, homosexuality.
Nothing in his previous work prepared me for the sophistication and power of Marks' music here. Every glorious word is by Hughes, and Marks sets the poetry with sensitivity, insight, and clarity. Standouts include Hughes' introductory "Who Am I?," his mother's "Crystal Stair," a haunting "Troubled Water" for the poet and a sailor lover, and the seismic one-two punch of Hughes' "Jukebox Love Song" and Hurston's "The Sweet Flypaper of Life," the last becoming a sensational climactic number for our protagonist when reprised. Marks and Gash have also structured the score smartly, with number after number landing with welcome inevitability at just the right point in the story.
Josh Tower, as Hughes, is rarely offstage and runs the marathon effortlessly, acting and singing with power and conviction. Kenita Miller's Hurston is feisty, warm, and entirely winning, while Jordan Barbour is memorable as both a smooth, polished Cullen and a hunky sailor on the prowl. Glenn Turner is Simple, an older man on hard times who was once a top-flight dancer, and the authoritative Turner gives him dignity and grace, particularly in the wonderful "Dancer," when Byron Easley's fine choreography shows us what Simple once was. (Easley's work also shines in the stark dance of a young heroin addict and the propulsive and defiant "I Am a Negro," for Hughes and the angry men of Harlem.)
"Langston in Harlem" presents Hughes in all his thorny complexity, never shying from the darker aspects of his story. And yet the show leaves you with an irrepressible sense of joy in its celebration of a great American artist. — BACKSTAGE
Kenita Miller sings "The Sweet Flypaper of Life"
Note: A revised version of "Langston in Harlem" is planned by Classical Theater of Harlem when the nation's health issues are resolved.
For a video trailer from Classical Theatre of Harlem announcing their upcoming production of "Langston in Harlem" please go to CTHNYC.org.
---

"BAJOUR" (BROADWAY)
Chita Rivera dance number. (Watch carefully and you'll see renowned "Chorus Line" director/choreographer Michael Bennett dancing in the ensemble.)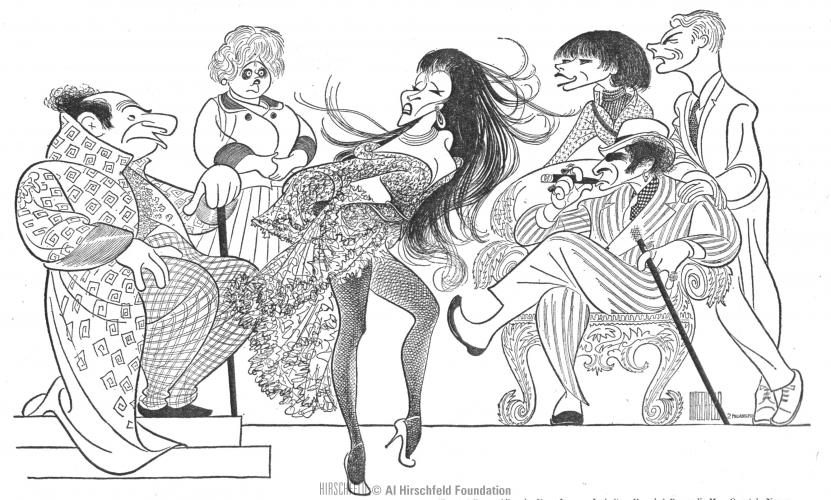 "The critic most people liked to read was Walter Kerr in the Herald Tribune. And it was Kerr's opinion that "Lyricist-composer Walter Marks is a bright beginner. Mr. Marks makes rhymes. This would not be so unusual in itself if it weren't for the fact that lyricists don't do it much anymore, and there is instant gratification in hearing such close couplets as Miss Dussault's devout wish to 'write a diatribe on why a tribe is there.' As she says, or rather sings, 'on my safari there's no one to be sorry if I rot with dry rot.' Easy? Perhaps. But lately very rare."
— Peter Felichia
Here's the overture to "Bajour", back in the day when overtures were big, sumptuous orchestral versions of the score.
There are original cast versions of most of the songs from the show. If you wish, you can listen to them on YouTube.
---
"GOLDEN RAINBOW" (Broadway)
Tony Award TV Presentation
If you like your musical numbers big, showy, silly and glitzy, then you've hit the jackpot, friends: They don't get much bigger, showier, sillier and glitzier than this Las Vegas–themed blowout from Golden Rainbow, a vehicle for married pop stars Steve Lawrence and Eydie Gormé that ran for nearly a year on Broadway in 1968.
Other than Steve and Eydie themselves—whose record label forbade them from appearing on the telecast—this Tony number has it all: Slot machines! Tambourines! Fake jazz trumpeters in tight green shirts! A showgirl on a flying cutout of a horse! A dead ringer for Chris Kattan's Mango! An interlude of hand clapping! Future A Chorus Line Tony winner and Gilmore Girls granny Carole Bishop working a long white boa! A strong contender for the gayest four-man stage cross of all time (2:42)! And, as a button, a final shout-out of the title of the show, in case you might have missed it: "Golden Rainbow!!!"
Please go to YouTube: Golden Rainbow Tony Awards
The definitive rendition of the title song, sung by the brilliant, ageless Marilyn Maye:
Please go to YouTube "Golden Rainbow" Marilyn Maye
Eydie Gorme singing "How Could I Be So Wrong?"
Please got to YouTube "How Could I be do Wrong? Eydie Gorme
(The original cast album songs are available on YouTube if you wish to listen.)
---
---